What You Need
Powdered sugar
Carbonated water (soda, seltzer, sparkling... just don't use tonic)
Fresh limes
Fresh mint
Light/White rum (decent quality, Bacardi or higher)
Ice
Highball glass
Jigger
Shaker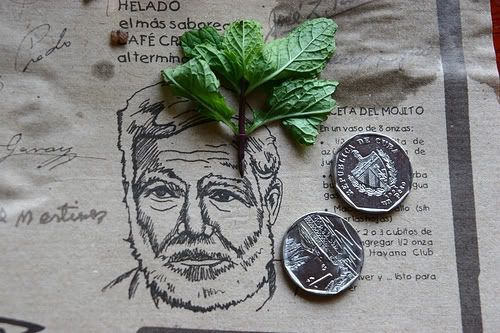 Summer is slowly approaching and it's time to start thinking about my summer cocktail for 2011. This has been a personal tradition of mine for about five years... each summer I seem to pick one cocktail and stick with it all season long. Last year was the summer of the mint julip, a southern classic. This year, the mojito has her Cuban claws deeply embedded.
As far as I'm concerned, the mojito is a perfect cocktail: not too sweet or heavy with a great flavor and plenty of zest (from both the rum and the lime). Plus, Ernest fucking Hemmingway drank them, and the only thing that man liked more than drinking was killing shit with huge guns. He is truly a man to be emulated.
This is part one of a two part series, focusing on the classic Cuban mojito. Part two will be a my more personal twist on the drink... but it's important to know where you come from, so here's the classic.