If you're a regular reader of this blog, then you've undoubtedly learned
a thing or two about steak
.There's one subject concerning nature's most perfect food that I've avoided, and for good reason. That subject is: degree of cooking.
Degree of cooking (or "steak doneness") is a divisive topic to say the least. Everyone has their opinion. I'm normally a very
live and let live
kinda guy... tastes vary, and if you like something a certain way then that's the way you should have it. However, I have a real problem with one-half of the doneness debate, which I'm addressing now.
There are two kinds of people when it comes to degree of cooking, as illustrated in the following images: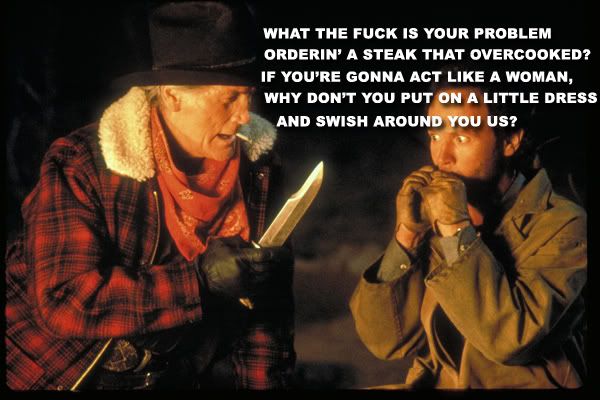 and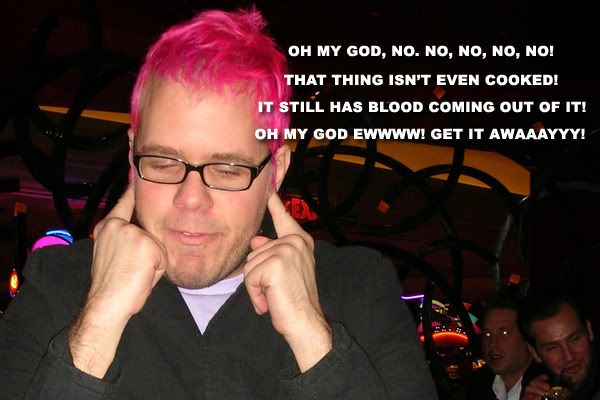 As if you couldn't have guessed by the title of this post, I'm firmly in the first camp. However, I try not to be an asshole about it. There are a lot of myths and misconceptions about steak doneness and, as a result, cooking and eating meat in general. It is these misconceptions that lead most people to request and then consume poorly prepared (overcooked) steak. It's akin to ordering a soggy bowl of cereal. These myths also keep many people from ever trying a properly prepared steak, for fear of death.
My aim is to address the four myths that cause most people to shy away from eating a properly cooked steak, starting with the biggest one of all, which I will now indicate with bold text and a large font.