Steak. The perfectly named food. It's a piece of animal flesh that you cook and eat. What better word than a short, guttural sound that doubles as something you fucking kill vampires with? So what's the big fucking deal with steaks? There are hundreds of different cuts of meat and 90% of people couldn't begin to tell you where even one of them comes from. Most people approach buying a steak in a supermarket or ordering a steak at a restaurant like they're buying parts for a fucking spaceship. It really doesn't need to be this complicated, and I'll prove it.
Steak is all about fat content. The more fat in your steak, the better it tastes. That's the bottom line... fat = taste. So why do so many people go for a "lean" steak if it tastes like a bland asshole? There's only one reason: fat makes your steak tougher. For those of you playing at home, that leaves you with two options:
You can have...
A delicious piece of a boat cover (high fat content)
A tender piece of generic meat product #793G (low fat content)

Luckily, these two extremes aren't your only options. You can find a happy medium, and your cut selection has the biggest impact on that. Plus, you can cook a high fat steak to make it more tender and you can season a lean cut to make it taste better.
Now that we've got all that bullshit out of the way, let's move on to cut. Some restaurants claim to have over five hundred different cuts of steak. What does that mean? Fuck all, that's what it means. When it comes to steak, you really only really need to know four cuts. It's far easier to remember where these cuts come from if you tell the cow to fuck off and use something you're more familiar with. I like to use Lady Gaga. I mean, what the fuck else are you supposed to do with Lady Gaga?

Round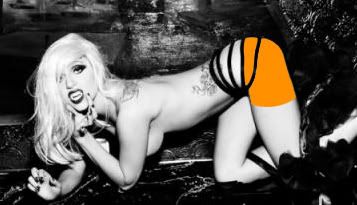 Imagine Lady Gaga is a cow. The shaded part, known by its technical name "ass", is called the round. When you're talking steak, you're talking ass. This isn't a cut you actually need to know, since no common cuts come from the round. This is just to orient you.
Sirloin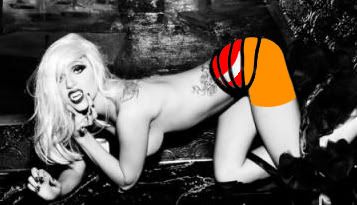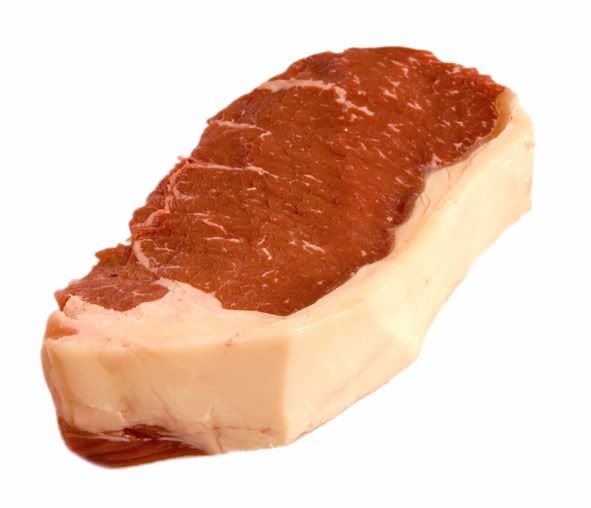 The portion of Lady Gaga shaded in red (the small of the back, basically) is the sirloin. The sirloin is considered moderately fatty and is usually at the low end of prices at most restaurants and supermarkets. That gash in the middle? We'll get to that in a minute. The sirloin is split into three parts: "regular", top, and bottom. When you order a
sirloin steak
, it's either "regular" or bottom sirloin. Top sirloin will be called "
top sirloin
" so they can charge you more (it's leaner).
Some people say sirloin is the bottom of the barrel as far as steak is concerned. Those people are fucking idiots. Sirloin is an easy cut to cook and will be good almost no matter what you do to it.
Short loin/Tenderloin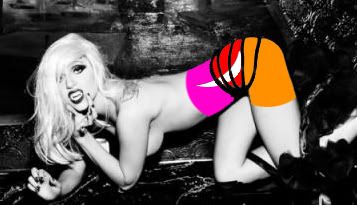 The portion of Lady Gaga shaded in pink is the short loin. The little sliver shaded in white is called the tenderloin. This is where people try to get all fucking complicated with the cuts when, in reality, it's all the same goddamn piece of meat. Think of it like Russian nesting dolls... you start with a porterhouse, which is the entire piece of meat shown on the right. The porterhouse consists of a strip (from the short loin) and a filet (from the tenderloin) still attached to the bone. When you order a filet or a strip, you're just getting a piece of a porterhouse. The t-bone will really piss you off... it's just a small porterhouse (less tenderloin). That's it. It's that fucking simple. 80% of the steaks on the menu are all the same fucking thing.
The strip is simple... it's a cut from the short loin. It's usually bigger and has a higher fat content. Strip steak is fucking delicious, especially when well seasoned. You can also cut strip steak big, making it a damn fine higher end steak.
Let's talk about the filet. First off, it's not a filet mignon. Forget the fucking mignon shit. Mignon is basically the French word for pussy. It's only added to the word filet to make it seem more like a delicacy that you should pay an arm and a leg for. Go order a filet mignon in France and you'll probably get pork, not beef. If that doesn't piss you off, dealing with your asshole French waiter who smells like an airport bathroom will. So forget mignon. The filet comes from the tenderloin which is the most tender (and highly sought after) part of the steak. Remember before when I said the leaner the cut of meat, the less taste? Ever wonder why they usually wrap a filet "mignon" (which isn't actually mignon) in bacon? That's right: to actually make it taste good. Did I just blow your fucking mind? Here you thought it was to just to enhance the flavor. Don't get me wrong, an expertly cooked filet is delicious... it's just not the king of steaks, as far as I'm concerned. You can get more and better for the money.
The highest priced cut of steak in any restaurant or grocery store will come from this area of the Lady Gaga.

Ribeye

The final cut of meat you need to know comes from the ribs (shaded in purple)... the
ribeye
. The ribeye has fat throughout the meat (called "marbling", a word that, when used in a steakhouse, will make everyone want to kick your ass), making for one of the most flavorful cuts of meat around. It's also surprisingly tender. As far as bang for your buck goes, the ribeye will leave you fat and fucking happy, I guarantee it.
That's it. That's all you need to know about steak. I shit you not, that's the long and short of it. You should now be able to go into any restaurant and actually know what the fuck you're eating, and even where on the Lady Gaga it comes from. Obviously, there's much more to ordering a steak than just cut and location, but we'll get into that OTHER sticky fucking subject later.