Back on topic, you'll find two main types of food in this area of Louisiana: Cajun and Creole. Creole is more common in southeast Louisiana and New Orleans. Cajun is more common in southwest Louisiana, though there is a LOT of overlapping. While the foods are similar, the history and background is extremely different. For the purpose of this entry, everything is Cajun unless otherwise noted.
Shit You Should Know About Cajun culture
2. The Cajun language is a dialect of French, though it's pretty far from the source at this point with a nice smattering of local flavor and Native American names like
Natchitoches. That's a place, by the way. It isn't pronounced the way you're pronouncing it. When in doubt, ask.
3. Known enemy-of-the-state Shia LaBeouf
is Cajun, but don't hold that against them. They also gave us Lash La Rue, Ellen DeGeneres, and the incomparable Pauley Perrette. Judging by the number of fake naked pictures of Pauley on the internet, I'm going to assume you know who she is.
4. South Louisiana is really popular in the media right now. It's the location of at least two reality shows (Sons of Guns and Swamp People) and the HBO hit series True Blood is based in the fictional town of Bon Temps, Louisiana. One of the main characters on that show's first season is Cajun. Sort of.
Why You Should Eat Cajun
Cajun food is famous for being spicy, and if you like a little burn at dinner, it won't steer you wrong. The beautiful thing about Cajun cuisine, especially as it compares to Creole, is simplicity: south Louisiana isn't an area known for material wealth and the food reflects that. A traditional Cajun meal is three pots: an entrée, a grain, and a vegetable. It's as down home as it gets.
The most common ingredients in Cajun cuisine, often called the Holy Trinity, is celery, bell pepper, and onion, chopped fine. That's combined with spices ranging from cayenne pepper and bay leaves to sassafras, garlic, and thyme. As for ingredients, you'll commonly find andouille sausage (made of heavily spiced pork, peppers, and wine), chicken, shrimp, crab, and even alligator (if you get the chance, don't pass it up. Gator is good). Though, there's one that stands above the rest...
Crawfish
: Also known as crayfish, crawdads, and mudbugs, crawfish are by far the best known ingredient in Cajun food. They're basically little lobsters that live in creeks and streams. Only a small portion of the crawfish is actually edible; in soups, stews, and gumbos, you'll usually just get the tail. However, if you attend a crawfish boil, you get the whole enchilada.
The proper way to eat a crawfish is to start with the tail meat, crack open the claws, then suck the fat and seasoning that collects in the head cavity. Failing to do this at a boil will get you shot. You might also be told to avoid eating the "dead ones", meaning the ones that were dead before being boiled. Popular thought is that live boiling causes the tail to curl beneath the body, so avoid any with a straight tail. In reality, there's no correlation to tail curliness and being boiled alive. Bringing this factoid up at a boil will get you shot. If you really want to avoid the dead ones (and you do), just don't eat any with mushy or discolored tail meat.
Gumbo
: Gumbo is a stew made from stock, meat or seafood, the holy trinity, and a thickener... roux (a thick gravy/sauce made of flour and fat), okra, or a spicy herb call
ed
filé
. Cajun gumbo is made almost exclusively with dark roux (the darker the better) and one of the other thickeners, along with seafood, sausage, or chicken. It can also be incredibly spicy. Creole gumbo, on the other hand, contains seafood, tomatoes, and one thickener. It isn't nearly as spicy as Cajun gumbo, which is commonplace in Creole cuisine. Louisiana Creoles, by the way, are descended from the original French and Spanish settlers of Louisiana. Their food tends to be more delicate, complex, and French, while Cajun food is hardier, spicier, and with a very Canadian sensibility.
Boudin
: A sausage made without blood, boudin (technically boudin blanc) consists of a pork casing stuffed with a pork/rice mixture and slow cooked. Also, it's pronounced BOO-dan. Failure to pronounce it correctly will get you shot. If in doubt, just as for a link.
Jambalaya
: Originally a Creole dish, jambalaya is one of those favorites that the whole of south Louisiana is known for. The only real difference between Creole and Cajun is the presence of tomatoes (which are more plentiful the closer to New Orleans you get... see how that works?). It's simple... meat or seafood (commonly audouille sausage, chicken, or shrimp), rice and stock, all cooked together. It's considered the simpler cousin of Gumbo and...
Etouffée
: Much like gumbo only thicker,
étouffée (from the French word for smother) is made with dark roux (though not always), seafood, and the trinity. It's served over white rice cooked in seafood stock (called dirty rice). Some chefs prepare
étouffée without the roux, instead using onions and butter.
Red Beans and Rice: Originally a Creole dish, it's just what it sounds like... red beans and rice. Traditionally, red beans and rice was made on Tuesday with the leftovers from Sunday dinner: sausage, ham, red beans, and rice. The beans are soaked for hours and cooked with the trinity and spices. This is all served over rice with meat (usually cooked separately). Being Creole, it's usually not all that spicy.
You've probably had it and thought, "Meh, it's all right". The problem is... you actually HAVEN'T had it. You just THINK you've had it.
Red beans and rice is NOT beans and sausage poured over some rice. It really is an entirely different (and amazingly tasty) dish, assuming the person who cooked it knows what they're doing.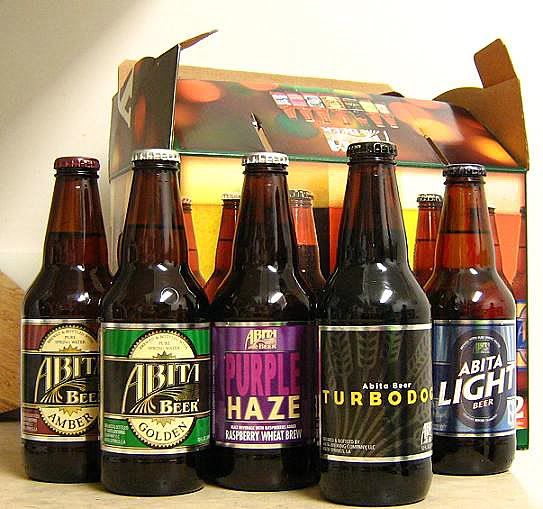 What If I Just Want to Get Fucking Wasted?
Then you've come to the right place. Louisianans are a drinking people, so feel free to cut loose. If you want a real taste of Louisiana, grab anything made by the Abita Brewing Company; a craft brewery that is wildly popular in the Pelican state. They make a really great brew... you can even find a few selections at your local liquor store, though nothing beats it on tap. If you're looking for something a little more New Orleans, the Hurricane (light rum, dark rum, grenadine or passion fruit juice, and lime) was invented there and is widely available.
If you're thinking about a vacation, I highly suggest Louisiana. It's nonstop fun, with amazing food, and stuff you just can't see anywhere else. Plus, they always need the money. Just don't get shot.