What You Need
Sweet or semi-sweet Riesling
Pineapple sherbet
Beverage pitcher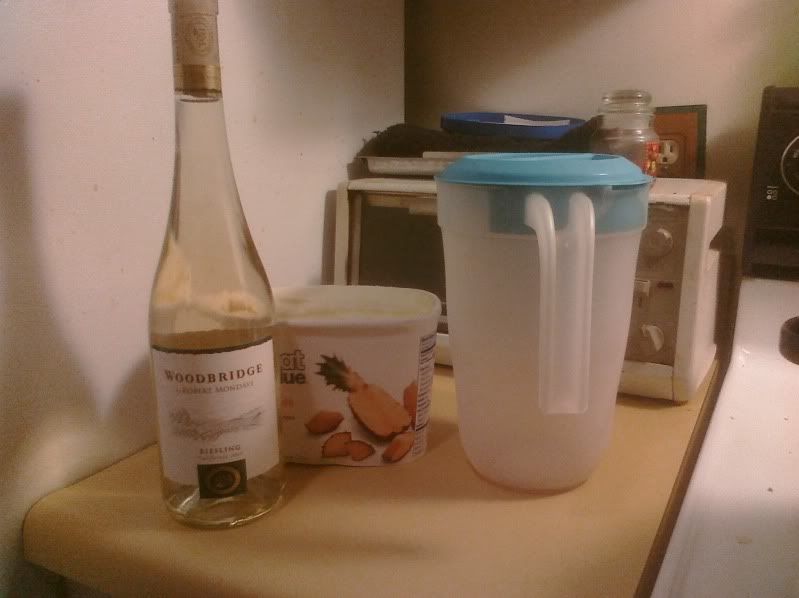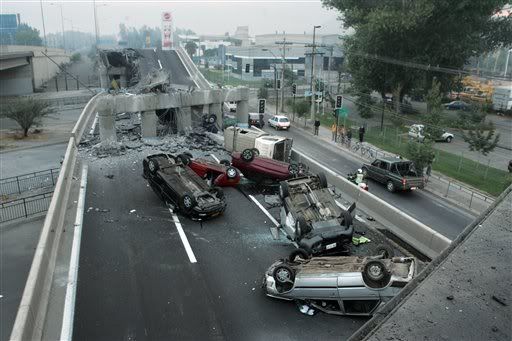 I was sitting on the couch in my boxers watching TV the other day and happened upon an episode of
No Reservations
featuring Tony's trip to Chile. During the first segment, I think, Tony is taken to a restaurant called El Hoyo in Santiago where he's introduced to a drink called a terremoto... a combination of a Chilean white wine called
pipeño
and pineapple ice cream. The word
terremoto
is Spanish for
earthquake
... the drink is so named either because it was invented for some journalists covering an earthquake back in the 80s or because it's supposed to get you inordinately shit-housed in a hurry. Mixing wine and ice cream has just the right amount of fucked-upedness to make my ears perk up, so I wanted to make it. Thus I hurried to the magical internets to find a recipe. There I discovered plenty, all of which said "combine pipeño and pineapple ice cream". Real fucking helpful, assholes. So, I made my own.
Step 1
: You'll notice by the ingredients that we aren't using pipeño. There's a good reason for that: unless you live in Chile, you're not fucking getting any. As it turns out, vino pipeño (as they call it in Chile) is a rather cheap wine made from extremely young grapes. It's fermented very quickly and has a very raw taste to it. It also doesn't travel well. Thus, I had to come up with a substitute, and I didn't have to look further than my personal favorite white wine: Riesling. Riesling is a German wine grown in colder climates. A sweet or semi-sweet Riesling should approximate pipeño in that the grapes are harvested young and are descended from a few wild varieties. Try to find a sweet or semi-sweet amber Riesling that doesn't cost too much (pipeño is made on the cheap). I found this bottle of Bob Mondavi Woodbridge for about $7. Use your little wine guy to open it.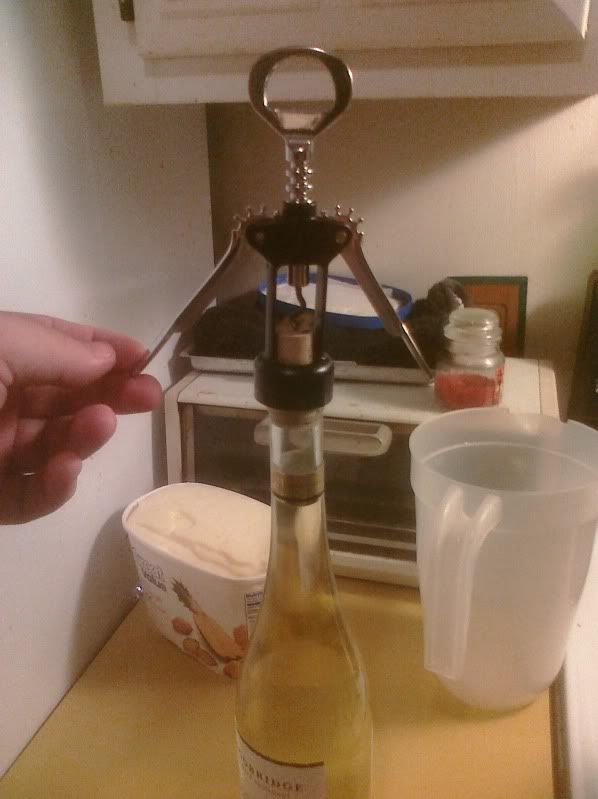 Pour your wine into a pitcher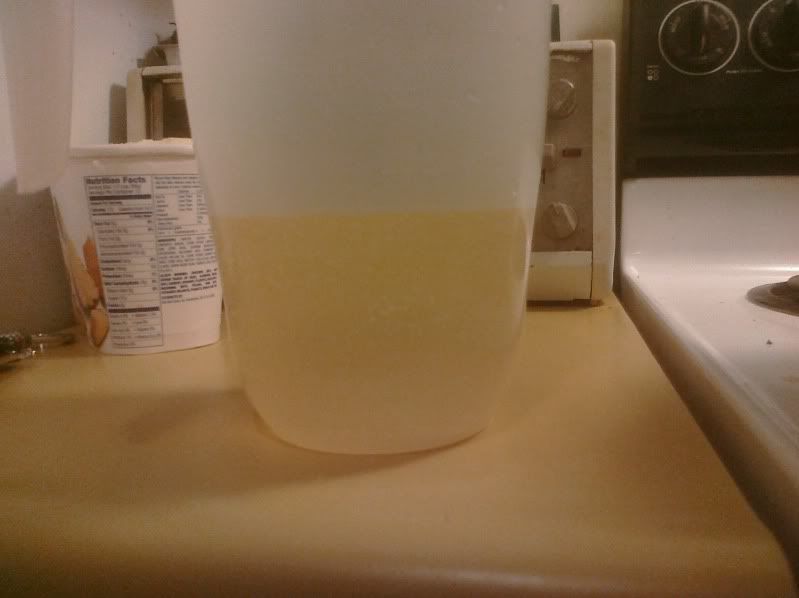 Step 2
: You'll also notice we're not using traditional ice cream, but rather sherbet. Turns out, Chilean ice cream is actually more of a sorbet, but not quite. American sherbet is basically sorbet with a bit of dairy, so it should work. Also, while we're on the topic, IT'S PRONOUNCED
SHER-BIT
, NOT
SHER-BERT
YOU FUCKING MORONS. READ THE GODDAMN CARTON. DO YOU SEE A SECOND
R
? NO, YOU DON'T.
Using a regular sized serving spoon, chuck in five to six nice, big chunks of sherbet.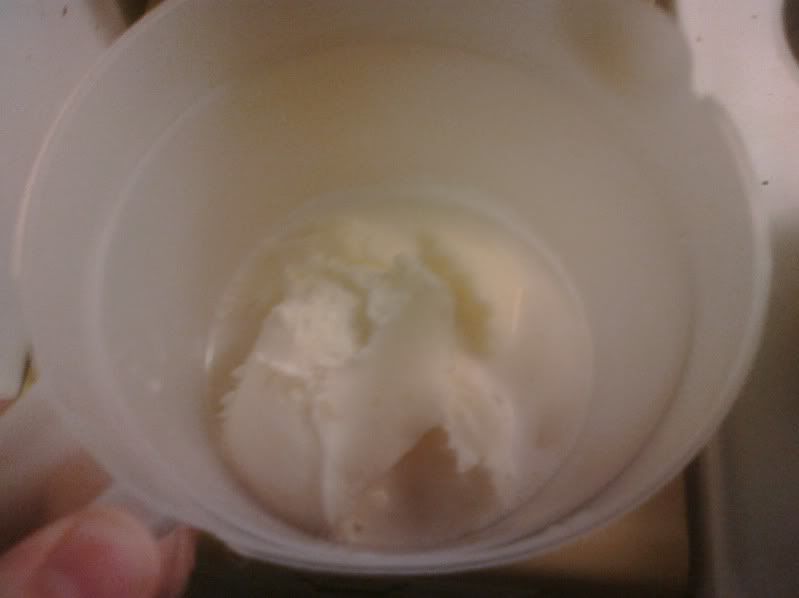 Step 3
: Mix it all up with a big spoon. Cut the big clumps into smaller, more manageable pieces, then stir rapidly to soften and break up the sherbet. This takes a bit of work, so suck it up. You can serve immediately or toss the pitcher in your ice box and allow the sherbet to melt down.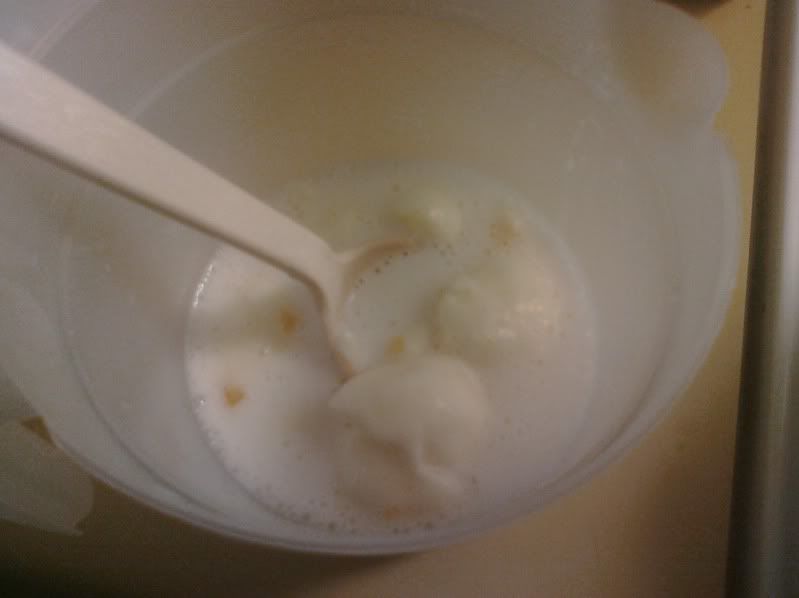 Pour it in a glass and serve. Now, mind you... I've never been to Chile or tasted an authentic El Hoyo terremoto so I have no basis for comparison, but I will say this: the drink is fucking excellent. I would hesitate to call the drink sweet... there's definitely a sweetness there, but it isn't a dessert. It has sort of a thin milkshake texture that is actually really nice. The girlfriend (who could nurse a drink for days) and I finished the entire pitcher in right around twenty minutes, and even after the first glass it was pretty evident that a terremoto doesn't fuck around. I can put away straight liquor like a trash can and even I felt a little alcohol twinge that I don't normally get from wine.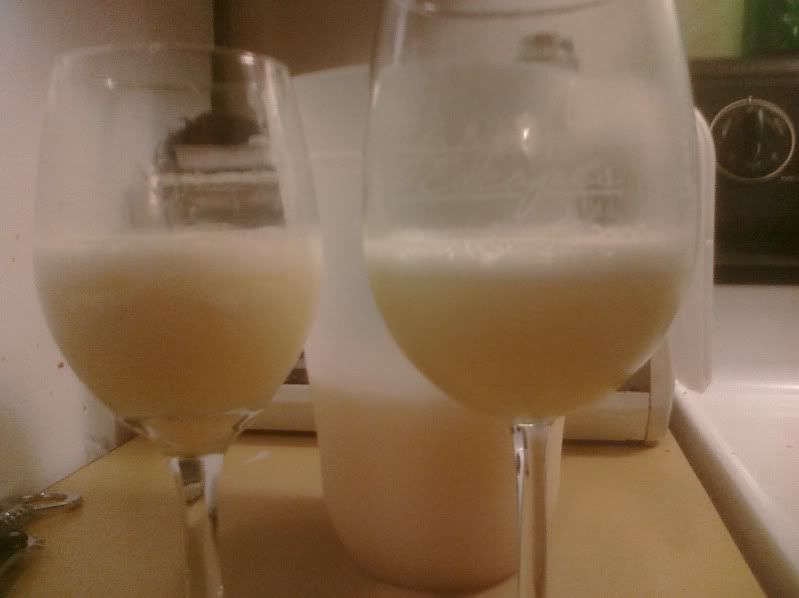 So how did I do with the recreation? Well...

Pretty fucking good, I'd say. The color is dead on (not as evident in the picture because my kitchen is dark as shit) and it has the same frothy head. All in all, I'd have to say I'm pretty fucking incredible.