Back on topic... the funny thing about Indian food is that there's really no such thing. India is such a huge, diverse place that calling anything just
Indian
is like calling a specific song
music
and expecting someone to know exactly what you're talking about. There are more than 30 defined regions that produce their own, often wildly different cuisine.
Shit You Should Know about India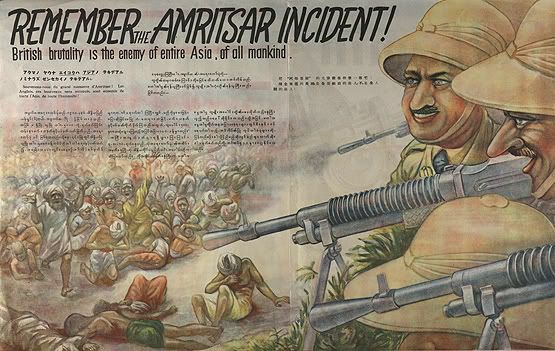 1. As part of their quest to be the biggest dickheads in history, the British got their first foothold in India around the time of the American Revolution and ruled until the Indian people finally kicked their limey asses out in 1950. Despite the relatively peaceful end to British rule (thanks a lot, Gandhi) the Indians did their fair share of Brit killing. They also produced some awesome propaganda posters.
actress
Sunny Leone. Notice how
actress
is in italics back there? There's a reason for that. A sexy, sexy reason.
4. Indians are serious about cricket, which is a game played on an oval field with rules that make Calvinball seem simple by comparison. If that reference is lost on you, please go lay on your nearest set of railroad tracks. In cricket, as best I can make out, a guy throws a ball and another guy hits the ball then runs to the end of the field and back. If he makes it back without a thousand or so things happening along the way, he scores a run. There might also be a giraffe involved.
Why You Should Eat India
If you're a fan of taste, Indian food is for you. Indians don't fuck around when it comes to spices. You're working with so many complex flavors that it can be mind boggling. There's a reason Europeans searched so hard to find a quicker route to India... if I had to eat the kind of schlock they were serving in Europe back then I'd go out of my way for a little take-home goodness too. As I mentioned above, the Brits ruled India for quite some time, which is pretty sad since everything in India is better than everything in England, including the people, locations, and culture. You might think I'm intentionally trying to offend the English here. Well, I am. It also happens to be true. Suck it, limeys.
Indian food is less about specific dishes and more about specific ways of preparation and spicing. To understand individual dishes, you have to understand the parts that make up the whole, and one of the most important parts is...
The Tandoor
: Calling a tandoor an oven is like calling Sunny Leone "just some chick". A tandoor is essentially a big clay chimney with the very fires of hell burning at the bottom. It can reach temperatures up to 900-fucking-° Fahrenheit (for my Canadian readers, that's 480-goddamn-° Celsius). A tandoor allows you to cook with direct fire, radiant heat, hot air, and convection heat at the same time. You can also smoke with it. Just typing that gets me physically aroused. The tandoor isn't uniquely Indian, but they've made it famous worldwide. You use a tandoor to make, among other things...
Tandoori chicken
: An extremely popular dish in India and abroad, Tandoori chicken is actually from the Delhi region. It's made by marinating chicken in curd and yogurt, seasoning it with tandoori masala (more on masala below) and various red peppers to give it that signature color. It then goes into the tandoor, making it juicy inside and somewhat crispy outside. It's not an old dish (invented in the 1920s, actually) but it is an extremely fucking tasty one.
Masala
:
Masala
is hindi for
mixture
, which is exactly what it is... a mixture of spices. There are many types of masala, but they all contain much of the same ingredients: peppercorns, cloves, mace (nutmeg's violent cousin), black cumin, cinnamon, cardamom, nutmeg, star anise, and coriander seeds. You can find many types of masala, particularly garam (hindi for
hot
) masala, premixed in many Indian grocery stores, but if you want the good stuff, you have to make your own.
There are many "masala" dishes, including...
Chicken Tikka Masala
: First off, I have to note that this isn't really an Indian dish. It was most likely created in Britain within the past 50 years. However, its rampant popularity means that it's likely available near you. It's actually the most popular restaurant dish in England to absolutely no one's surprise. Essentially, it's chunks of chicken (
tikka
is hindi for a piece of meat) in a masala-spiced tomato curry. As you should know all ready,
I covered curry way back when
, but I'll give you a quick lesson here: the word
curry
means
sauce
and has no specifically defined taste.
Biryani
: Finally, we get to rice. This is another dish that isn't exactly Indian. It's technically Persian. Biryani is basically steamed rice with spices and meat or vegetable. The ingredients are prepared separately and then combined. It's similar to a pilaf, except a pilaf is often cooked all together.
Naan (Tandoori bread)
: Finally, we come to what your meal will probably start out with. Naan is a leavened flat bread made by sticking a rounded piece of dough to the side of the tandoor. Naan is actually a very generic word for bread, used across the middle east and the Indian subcontinent. The good thing about naan is that there's really no wrong way to eat it. You can butter it, rip it, fold it, mop up your various curries with it... you could take your entire entree and make a huge naan taco if you wanted to.
What If I Just Want to Get Fucking Wasted?
India is a very conservative place... they barely allow kissing on screen in their psychotic, drug fueled dance movies. You'd think strong drink would be hard to come by. Well, not so much. Beer consumption in the country has been growing steadily for the past decade. The most popular beer in India is Kingfisher, produced by United Breweries Group. I have no idea what it tastes like, but I'm going to guess weak piss water. Fuck it. Most Indian beer comes from old British breweries anyway. If you want a real taste of India, pick yourself up some fenny. Fenny is an all-Indian liquor that comes in two major varieties: coconut and cashew. It's also apparently the name of several women that like to stand half-naked on beaches (thank you Google images). You can only get it (the alcohol) in the Goa region of India, so if you find some, drink as much as you can. Salut!