After much research, I've discovered the only holiday task that requires using a knife to dismember a dead animal is carving a turkey. Unless you live in Alaska, anyway. For some reason, not everyone wants to go all Charles Manson on the big bird. These people are pussies and should be ridiculed at every possible opportunity.
There are many reasons to take up the turkey carving job yourself this holiday season. First and foremost is so none of your mouth breathing, half-retarded relatives do it. It's like the old saying goes, "If you want something done right, fucking do it your goddamn self." This is doubly true if you actually prepared the fucking bird... if you can sit back and watch Uncle Jim-Bob hack and saw at your dinner and not want to stab him in the face with the serving fork, please go lay in the middle of the fucking interstate. Secondly, you get to handle a knife, a task that should always be at the top of your "Shit to do" list, especially around family and young children. Thirdly, carving a turkey is really fucking simple if you know what you're doing.
Before we get to the actual carving, though, I want to address a big topic:
White v.s. Dark
You've heard it your entire life... white meat is superior. This usually comes from people who have no fucking clue what the goddamn difference is... they just know that white meat is better. So, just what IS the goddamn difference?
Dark meat is dark because it contains more of a special protein used to carry oxygen to muscle cells. More active muscles require more oxygen, which means dark meat comes from the parts of the animal that are used more... in the case of flightless birds like chickens and turkeys, the legs and thighs. As you've probably gathered by now, white meat comes from the parts of the animal not as commonly used (wings and breasts).
Many people say white meat is healthier for you than dark meat. This is only half-true. White meat contains less fat, but dark meat contains an assload of vitamins and minerals, including iron, zinc, niacin, B6, and B12. If you're really concerned about cutting back on fat... lose the skin. Beyond that, eat what tastes better... which, for many people, is dark meat.
Now, carving: step one.
Tools
The classic knife-and-fork carving set is shit. Absolute shit. the knife is better suited to cutting bread and the fork is fucking pointless. Whoever came up with it should be beaten to death. What's you need is a long, wide, non-serrated knife that tapers to a point. I use my hooker killing knife (which you last saw while smashing garlic for
Balsamic Chicken and Pasta
). Your knife should be sharp enough to cut through a human pelvis, which is pretty fucking sharp.
As for the fork, get rid of it entirely and get yourself a nice pair of tongs. Tongs give you far more flexibility; you're not having to stab your bird (releasing delicious juices) or work around the fork tines while you're cutting. Here's a handy infographic: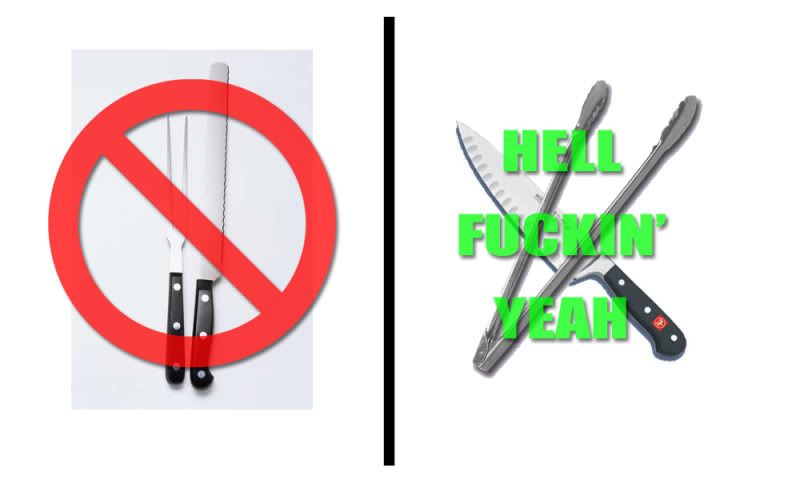 You need one more tool, and unless you're some kind of god-forsaken freak, you were born with it: your hands. If you have a pair of
unpowdered
latex gloves, wear them. If you don't, wash your hands really well and get ready to rip out some muscles.
Now that we've got all that bullshit out of the way, it's time to start dismembering that which was once alive. People tend to get stupid when they're confronted with the bird... the forget that they're dealing with something that has body parts, and you have to think about anatomy when you're carving. It's far easier to visualize this process if you tell the turkey to fuck off and use something you're more familiar with. I like to use Lady Gaga. I mean, what the fuck ELSE are you supposed to do with Lady Gaga? Except remember cuts of
steak
, of course.
=
Step 1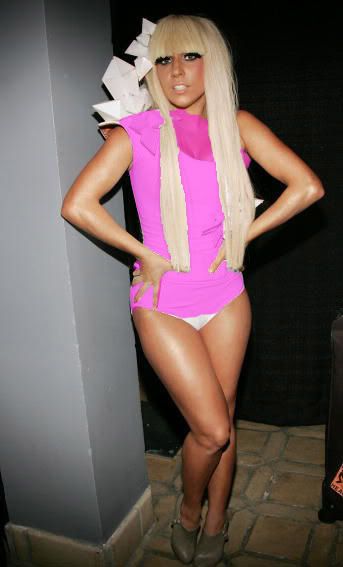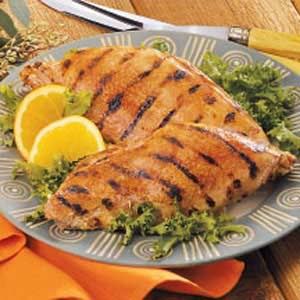 Many people start with the legs when carving a Lady Gaga. These people are fucking morons. You're going to remove the breasts first, leaving yourself a nice, open workspace. This is simple to do... just locate the bone running down the middle of the breast. This is called the keel bone. You're going to cut away the breast on either side, leaving you with something resembling a filet. Don't freak the fuck out if you don't get all of it... I assure you any remainder will not be wasted. If you want to cut down your breast now, just slice it vertically, across the grain, being sure to leave some skin on each piece. Do the same thing for the other side. Your Lady Gaga should now have a big gaping hole in the center, as opposed to the real Lady Gaga, who has a big gaping hole somewhere else.
Step 2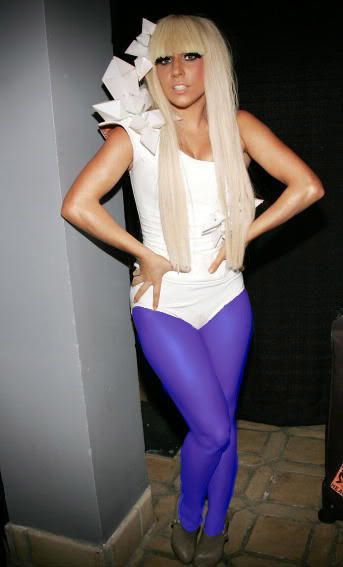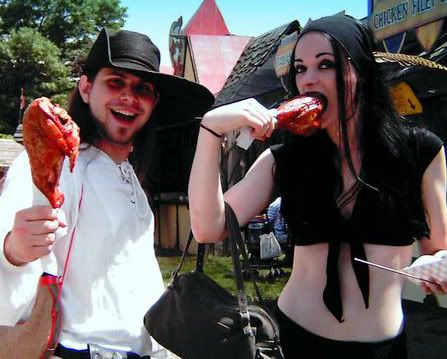 Now we move on to the legs. This is where your big gaping hole comes in handy (as opposed to the real Lady Gaga, who's big gaping hole comes in handy during album negotiation). Grab the leg and pull it back until you can see the ball joint and hear it pop out of place. You might need to help the process along a bit with your knife. Then, simply cut the leg through the joint and remove it. Had you left the breasts on, you'd have to root around with your knife until you found the joint, which while fun, is ultimately unproductive. Do the same on the other side. You can cut your legs down, but why bother? Relive your ren faire days and go at that motherfucker caveman style. Bonus points for every family member you call a wench and/or challenge to a joust. Extra bonus points for regicide.
Step 3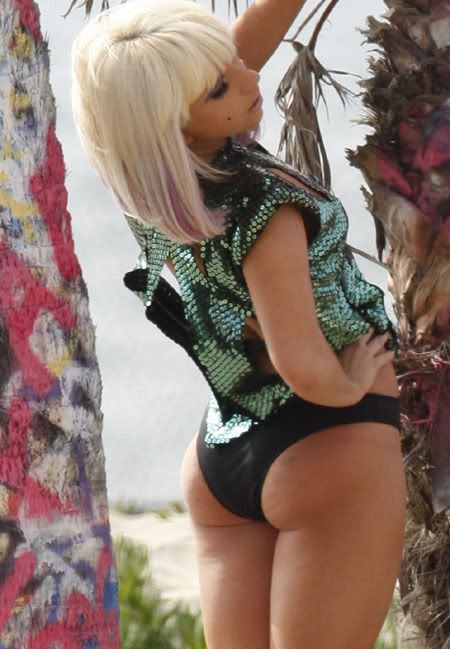 Flip your Lady Gaga upside down.
Step4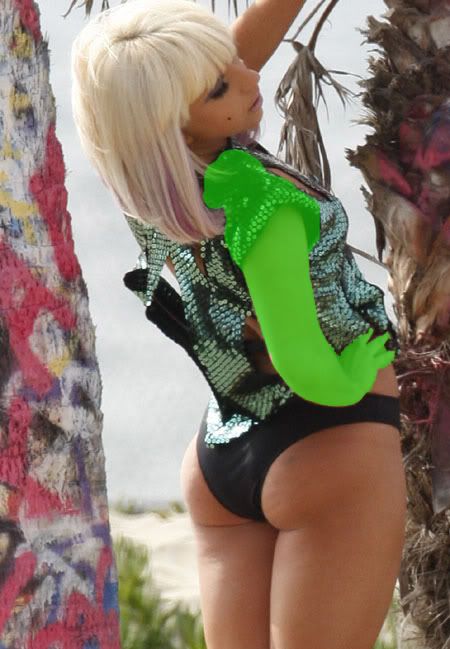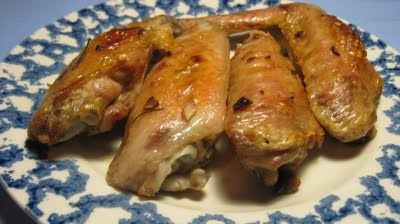 You're going to remove the wings pretty much the same way you did the legs. Bend them back until your see the joint, then cut through it to remove. As far as I'm concerned, wings are fucking pointless, so do whatever you want with them. Trying to cut them down is a colossal waste of time. If you don't have a stupid relative that actually likes the wing, I suggest pawning them off on the family member that demands only white meat. They undoubtedly deserve it.
Step 5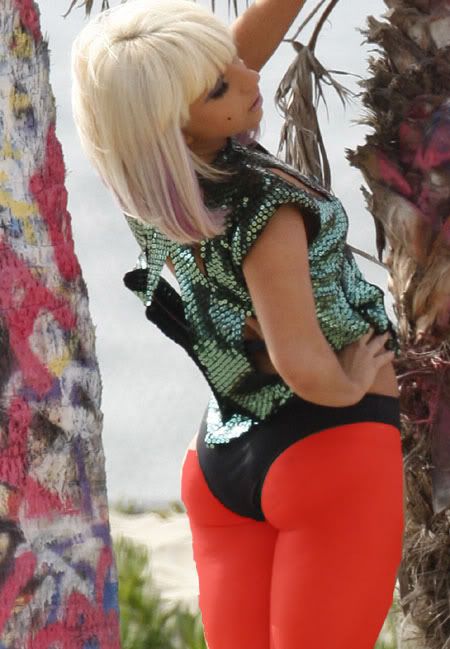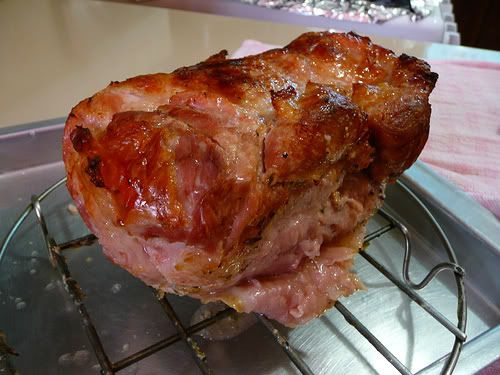 Now we remove the thigh. This is far and away the most difficult part of carving your Lady Gaga, and it's still pretty simple. Starting at right about the edge of the cut you made for the wing, slice back through the bird, using your hand or tongs to peel back. Pretty soon, you'll come to the joint, which you should then pull back and cut through as before, leaving yourself with a perfect thigh. De-boning the thigh is pretty simple. Just flip it over and, using your hands, pull the meat apart laterally until you see the bone. Remove the bone, and cut the thigh much like you did the breast (against the grain).
Step 6
Step back and admire your work. Pretty good job, eh? But, you fucked up somewhere, didn't you? You can still see some meat that you missed. There's some good meat there, too. What a miserable fucking failure you have become. Look at yourself. You're a fucking disgrace to your ethnic group and/or race. Even so, you can now move on to the final part of the carving process... scavenging. Locate any meat you missed and pull that shit off by hand. If no one eats these "scraps", you can always make a turkey sandwich tomorrow... or serve it to those ungrateful bastards next year.
Bonus: Where's the Wishbone?
The wishbone is a family tradition, but it can be hard to find if you're fucking stupid. It's in the neck hole. Just pull the hole open and cut out the bone, much like you did when de-boning the thigh.